There are plenty of reasons why Phuket is such a popular vacation destination such as its breathtaking sceneries, untouched white sand beaches, and numerous activities to embark on. If you're traveling with kids to Phuket, the amenities a private villa has to offer make it an excellent choice of accommodation for families.
To help guarantee a wonderful time for every member of the family, we put together a list of villas in Phuket that are ideal for guests of all ages. Browse through the list with your entertainment preferences and child-friendly facilities in mind without having to worry about safety and comfort. These villas are usually located in a gated community with 24-hour estate security, are equipped with first aid kits, have daily housekeeping, and include high-speed wireless Internet throughout the property.
1. Villa Alchemy
Located in Cape Yamu,Villa Alchemy has plenty of outdoor facilities to keep the whole family entertained. Among these include the villa's main pool with a large area for kids where they can liberally splash and swim around, a garden play area, and a tennis court within the estate.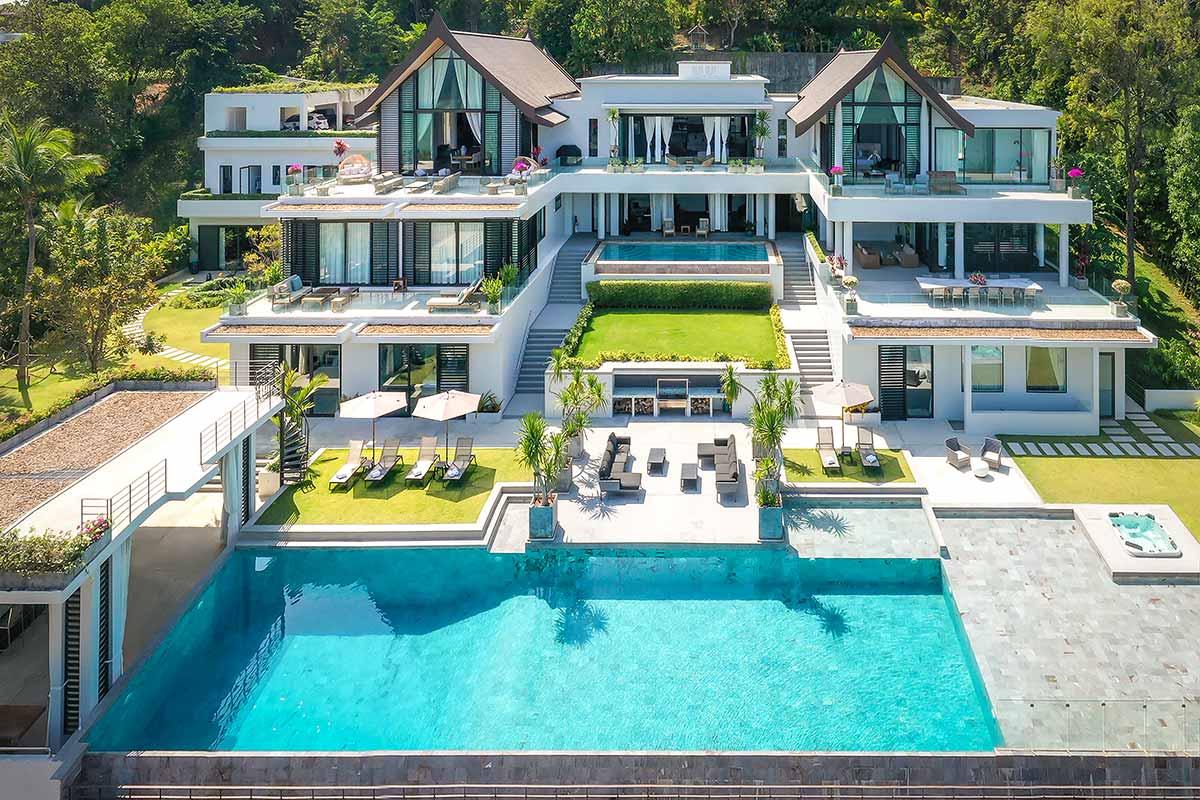 The villa also has a cinema room for a family movie night and a spacious lounge for indoor games and activities.
2. Villa Amarapura
This beachfront villa is ideal for families who enjoy outdoor games as well as quiet afternoon picnics. Villa Amarapura has a spacious lawn, a full-size basketball court that converts to a badminton court, a golf green, and a tennis court within the estate. The villa's reflection pool also serves as a kiddie pool where the young ones can swim.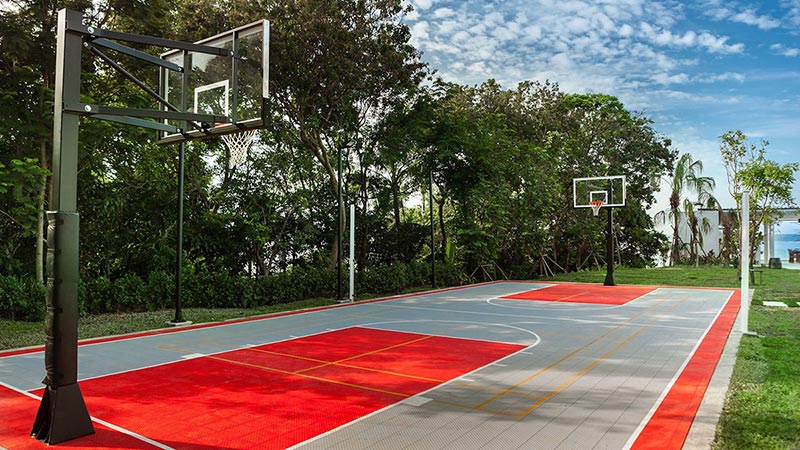 Baby cots and high chairs are available. Adults can also enjoy the lounge areas with comfortable day beds, a fully equipped gym, and a Jacuzzi.
3. Villa Verai
The beautiful beachside lawn of Villa Verai is an ideal spot for enjoying outdoor activities and spending quality time with the whole family. Its special swimming pool has shallow areas for kids so they too can enjoy the pool. Inside the villa, there's also a cinema room with velvety seats for family movie nights.
Both kids and adults can enjoy a game of volleyball at the villa's outdoor area or have a friendly match at the tennis court within the estate. Child facilities like baby cots and high chairs are also available.
4. Villa Padma
This seafront property is perfect for families with toddlers and babies. Its two-floor structure means not needing to climb long flights of stairs or worrying so much about the kids' safety indoors. Villa Padma also has lovely swings for children to play with, and a tennis court within the estate.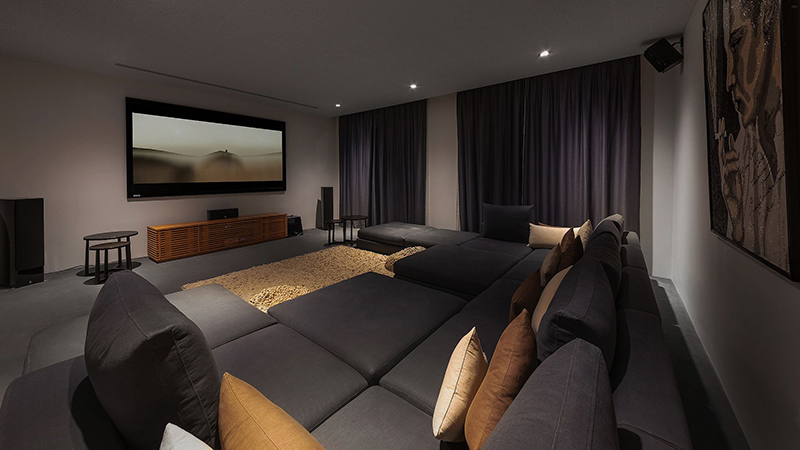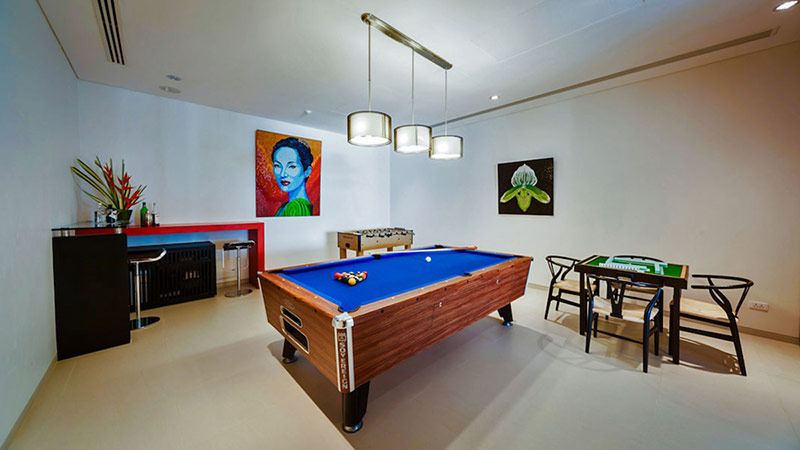 Families can spend time in the cinema room which is equipped with a large screen projector. Baby cots and high chairs are available. There is also an infinity pool, a BBQ area, and massage services for adults too.
5. Villa Vikasa
Villa Vikasa is a beachfront property with only two floors, a structure perfect for families with kids. The villa has extensive outdoor areas where the whole family can spend time together, including an ideal spot where kids and kids-at-heart can play soccer.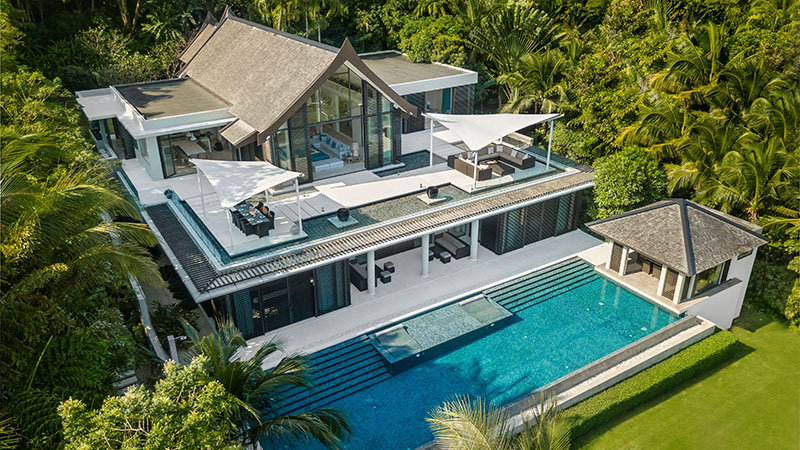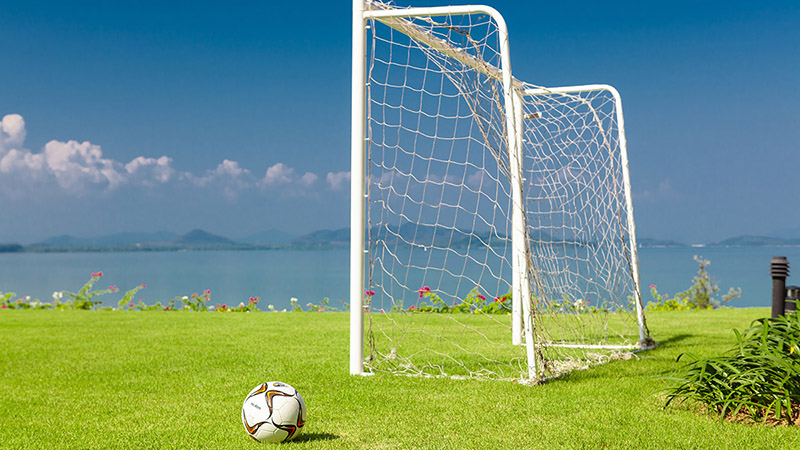 Baby cots and high chairs are also available. For the adults, the villa has an infinity pool, a pool table, and your choice of outdoor and indoor dining.
6. Villa Shanti
Villa Shanti resembles a tiny island village but with facilities perfect for accommodating families. The infinity pool has a shallow area complete with pool toys for young children to enjoy.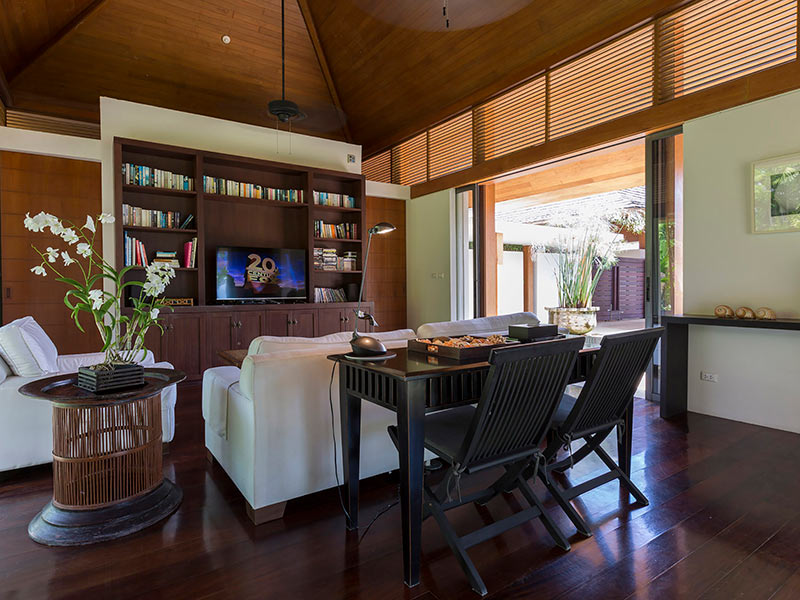 The villa also has board games and a TV room to keep the whole family entertained. Babysitters are available upon request.
7. Villa Enjoy
Aside from the view of the beaches, the hills, and the bay, Villa Enjoy offers rooms that kids will appreciate. The villa's bedrooms have fun and colorful motifs: pink, blue, green, turquoise, and yellow. The villa has a game area with arcade machines featuring 999 classic games and over 25 various board games.
The kids will also love the bean bags that are scattered around the spacious lawn. Everyone can play a variety of fun outdoor games like croquet, lawn darts, basketball, badminton, and cornhole. Floaties and beach balls are also available. Child-facilities like baby cots and high chairs can be provided upon request.
8. Villa Analaya
This beachfront villa is a two-story building situated near the western coastline. The garden has spacious play areas for games and fun activities. There's also a trampoline that kids will love to play with. Villa Analaya has a separate TV room for kids where they can watch their favorite shows while the adults relax and enjoy their preferred shows in the villa's other media room.
The master bedroom connects to two guest rooms which can make it easy for parents to tuck kids to bed after a long day. Baby cots and high chairs are also available.
9. Villa Essenza
Villa Essenza, situated on a wide-open flat land, has a modern style accommodation with classy and elegant interiors. Guests can enjoy a variety of family games including table tennis, board games, boogie boards, and swing cars for kids.
Soccer and volleyball equipment, like goal nets, are also available. The villa's garden lawn can be transformed into fields that the guests can use to play the games.
10. Villa Tievoli
This child-friendly beachfront property villa has a mini library with toys to play with and storybooks to read. If that isn't unique enough, Villa Tievoli has bunk beds in the kids' room to add to that summer camp vibe children are familiar with.
Kids can play in the villa's spacious lawn area with a view of the beach. The garden area also allows them to enjoy fun outdoor activities.
To secure the private villa that perfectly suits your needs, contact us to book it in advance and get ready to take a relaxing and fun-filled vacation in Phuket that your family will never forget.
……………………………………
Featured image: Villa Enjoy