When visiting Phuket, the first thing that comes to mind is to explore the island's best beaches that are famous for their natural beauty. No one can resist the calming blue waters, powdery sand, and breathtaking scenery that characterize this world-renowned destination.
But there's more to this charming province than just its coastline. Not far from the mainland, primarily on the eastern and southern sides, are numerous isles and islets. These idyllic islands are mini destinations by themselves and have become popular stops for those looking to explore new landscapes around Phuket and to enjoy aquatic activities like kayaking, snorkeling and diving. While smaller islands are perfect for short day trips, some of the larger and more developed islands are worth the overnight stay.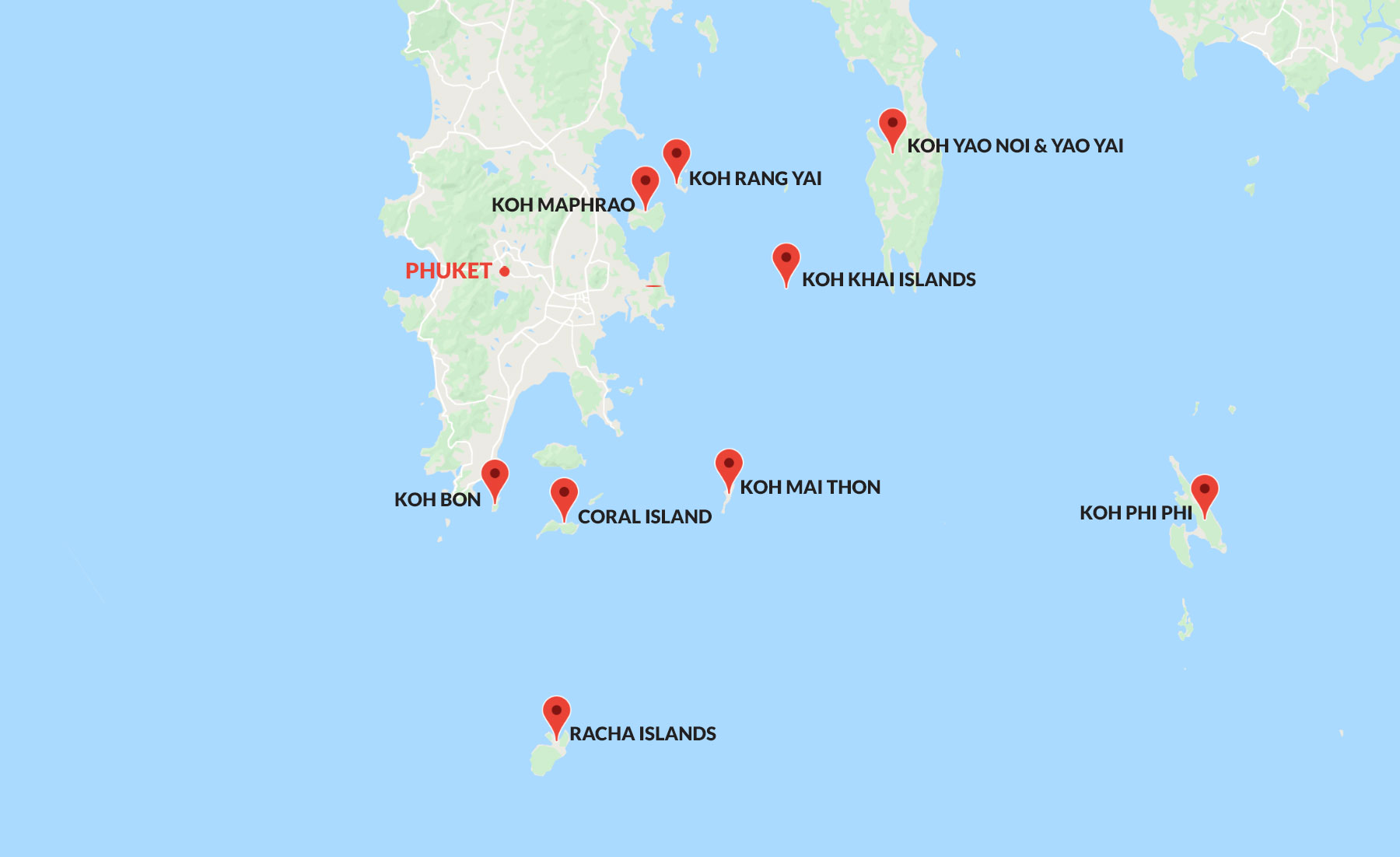 As a premier yachting destination that is home to four marinas, Phuket serves as the perfect jump-off point to explore these nearby islands on your own private yacht. Depending on the distance, other popular ways to reach these islands are by ferries, speedboats or even traditional long-tail boats.
If island hopping is something you want to try on your next trip to Phuket, read on to know which of them are worth checking out.
Koh Phi Phi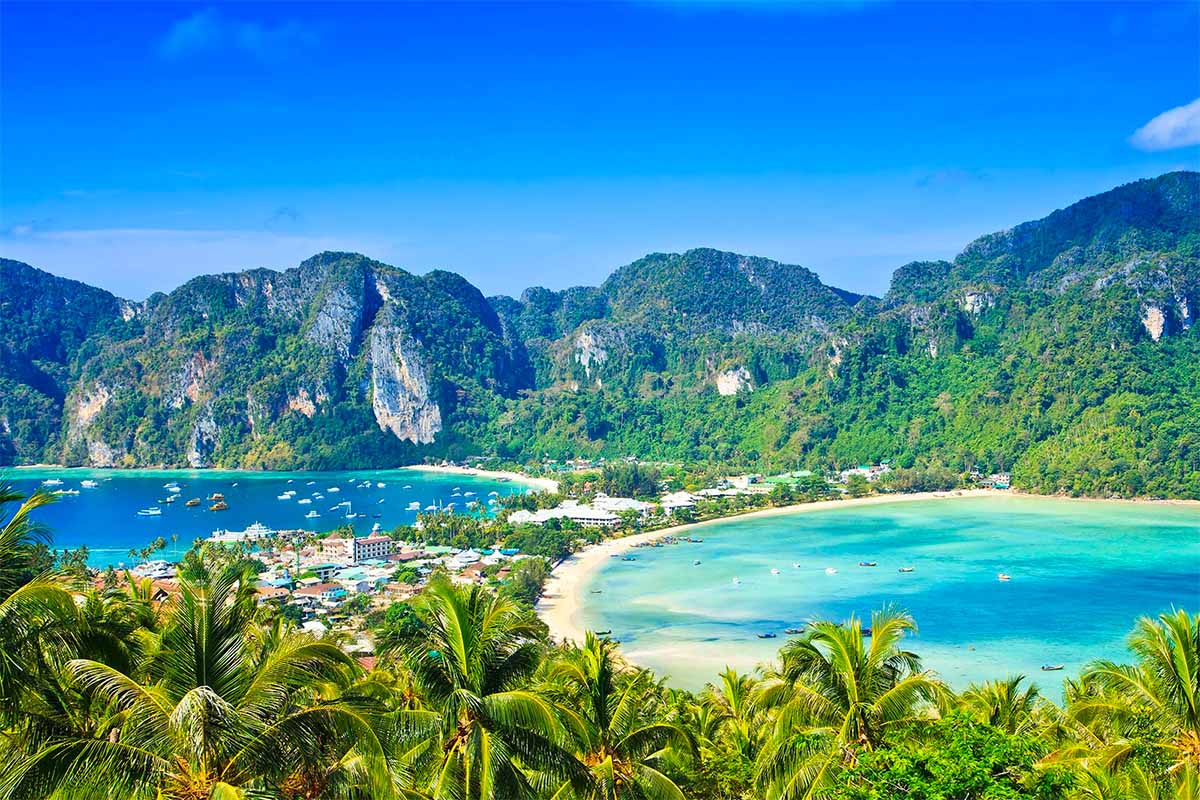 Koh Phi Phi is an archipelago that lies on the southeast side of Phuket, right in the middle of the Andaman Sea. It comprises six islands that are characterized by limestone-rich cliffs and fine sand beaches.
It has two main islands, Koh Phi Phi Don and Koh Phi Phi Leh. The prior is an inhabited island where all tourist amenities and accommodations are located while the latter is known for the Maya Bay, which served as the shooting location for Leonardo Di Caprio's film The Beach.
Coral Island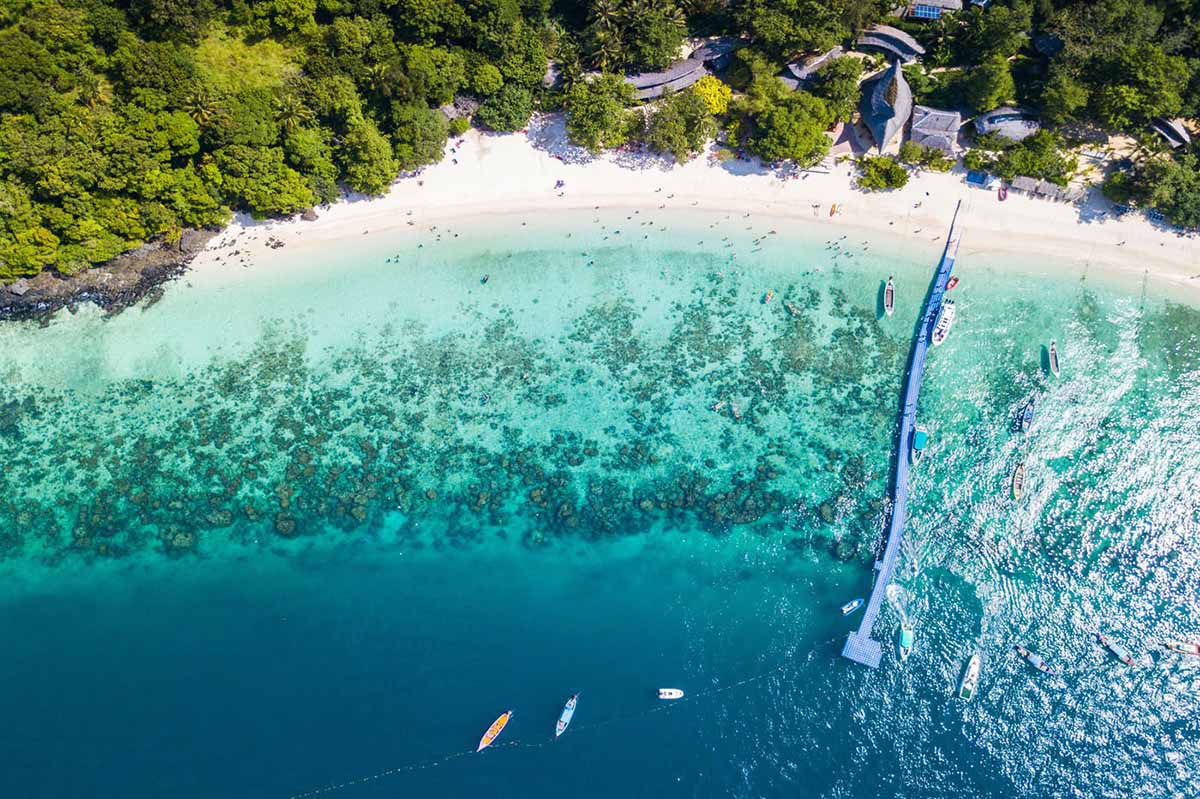 Also known as Koh He, Coral Island is located about three kilometers away from the southeast tip of Phuket. It has two main beaches, Long Beach and Banana Beach. The island is known not just for its alluring shores, but also for its rich and diverse marine ecosystem, thus the name Coral Island.
Because of its underwater beauty, snorkeling and diving became two of the most in-demand activities on the island. Other activities that the visitors must try here are swimming, canoeing, speed boat riding, and banana boat riding.
Koh Mai Thon
Koh Mai Thon is an islet that can be reached in about fifteen minutes from Rawai Beach. This small island features a quaint beach and a lush hillside.
It is a private island that has a small hotel and several luxury bungalows. Tourists dropping by for a day trip can visit the hotel to have lunch, grab a few drinks, or even get a massage. It is also an ideal spot to enjoy snorkeling, diving, fishing, boating, swimming, and sunbathing.
Koh Khai Islands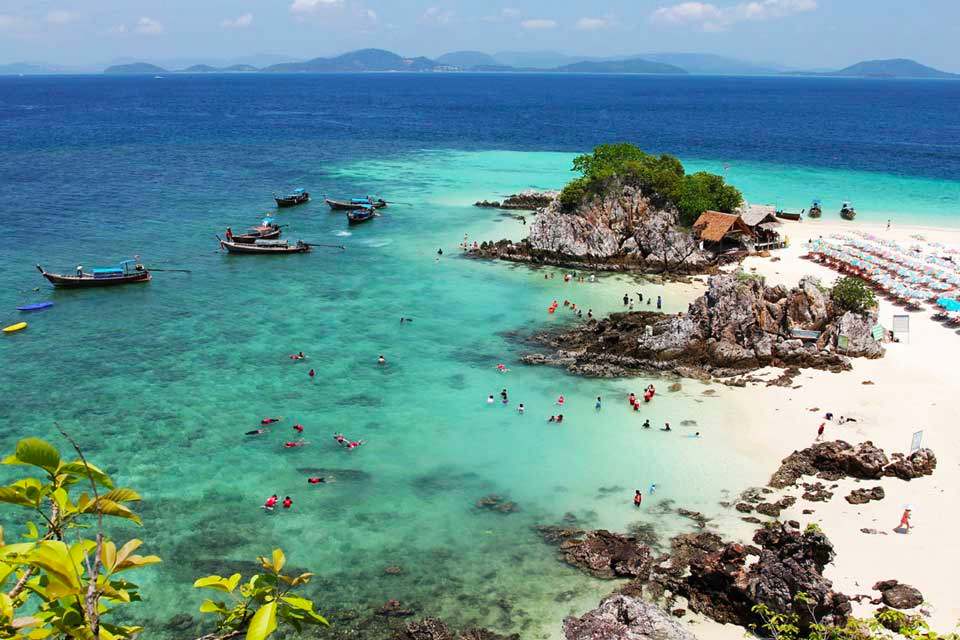 The Khai Islands are situated to the east of Phuket, comprising of three islets: Koh Khai Nok, Koh Khai Nui, and Koh Khai Nai. These islets offer an alternative for those who want to enjoy a beach trip away from the usual Phuket crowd since they are only about twenty minutes away from the mainland.
Koh Maphrao (Coconut Island)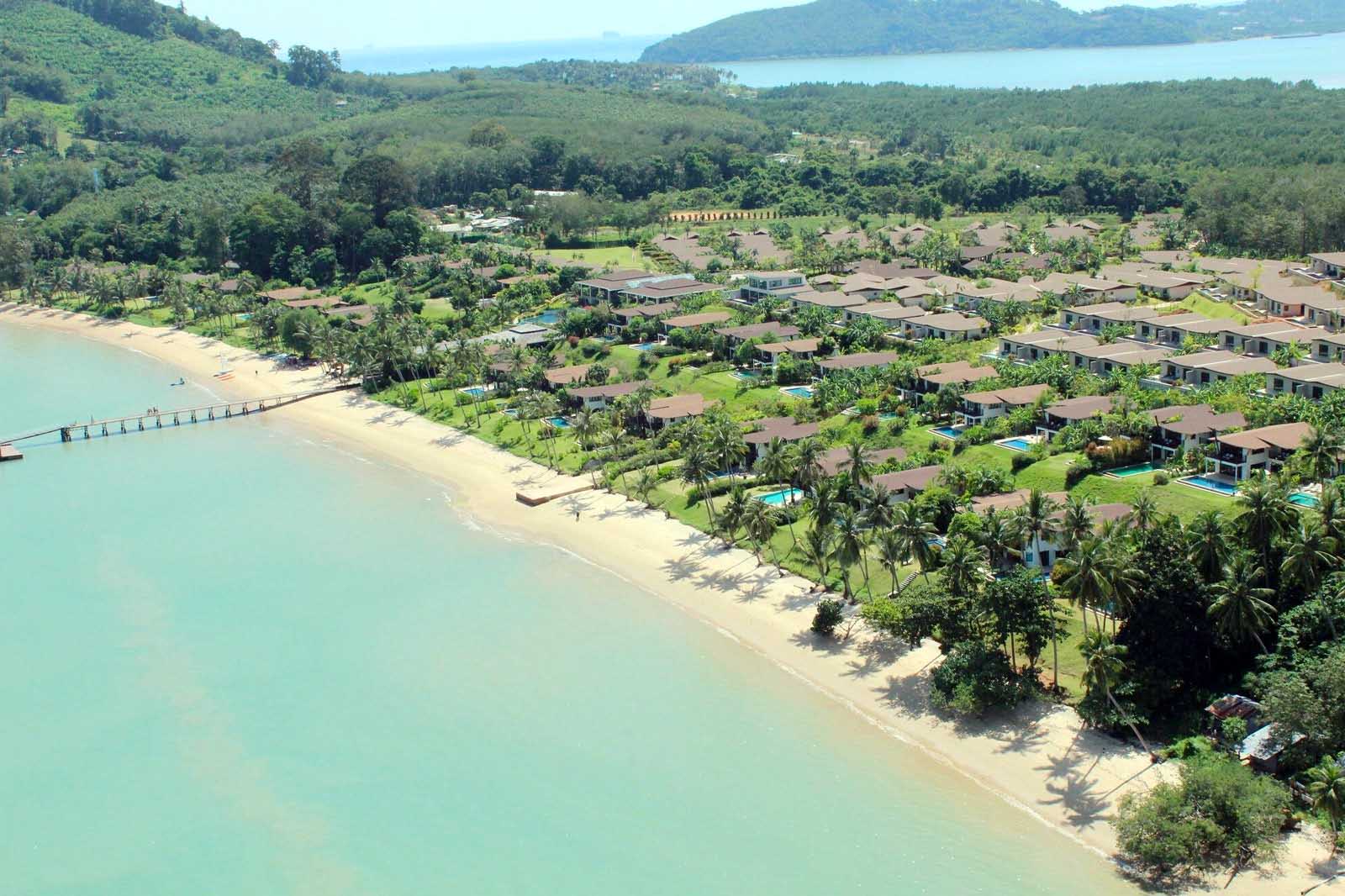 Koh Maphrao, also known as Coconut Island, is a small isle located off Phuket's east coast. It is a pristine destination without much infrastructure and is practically still untouched. Despite this, the island is a must-try for travelers who want to become one with nature. Some of the activities you can try in Koh Maphrao are camping, sunbathing, swimming, fishing, hiking, and cycling.
Koh Yao Noi and Koh Yao Yai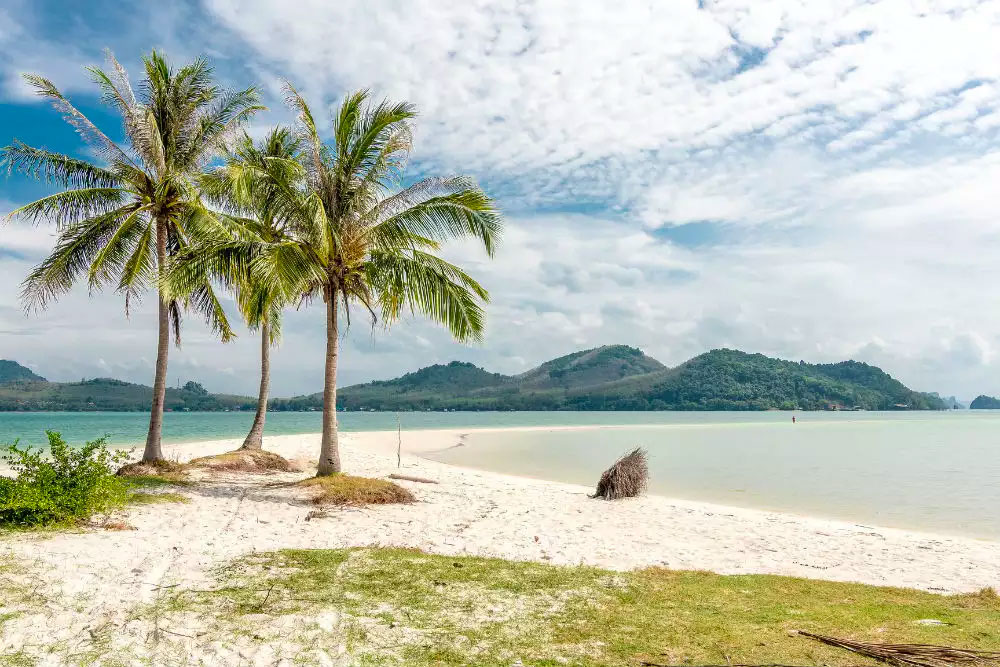 Koh Yao Noi and Koh Yao Yai are two large islands located between Phuket and Krabi. Koh Yao Noi is more developed and it features an array of transient homes ranging from budget accommodations to 5-star hotels.
While the Koh Yao islands are already developed for tourism, their tranquility and natural beauty are still their best assets. Some of the popular activities here are swimming, kayaking, hiking, and snorkeling. These islands are also home to a community of Muslim farmers and fishermen.
Koh Rang Yai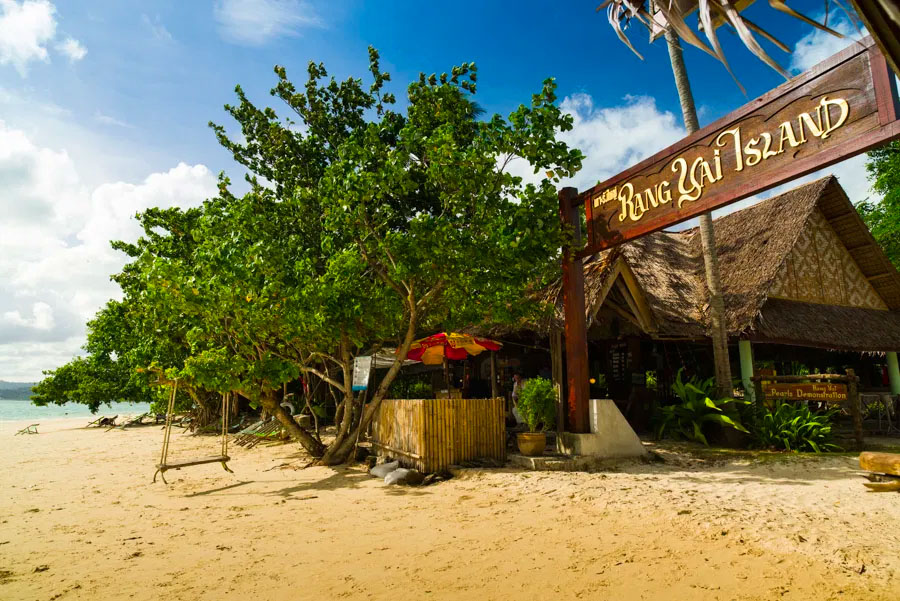 Koh Rang Yai is a quaint island located about five kilometers from the east of Phuket. It features a 1-kilometer beach on its western coast that serves as a stopover for tourists visiting Phang Nga Bay.
The island's beach is lined with trees, making it the perfect spot for daytime strolls or a quick beachside run. Sports and adventure enthusiasts will have a great time in Koh Rang Yai as it has an air gun shooting range, a football pitch, a mini-golf course, and even a beach volleyball net. The island's rocky structures are also perfect for hiking and rock climbing.
Koh Bon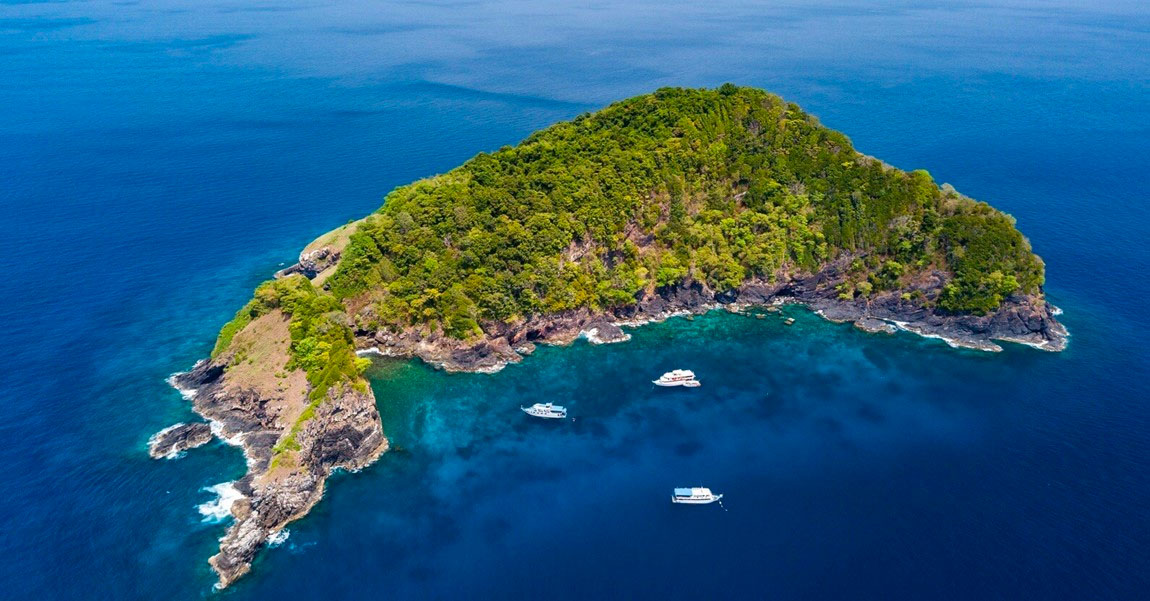 Koh Bon is a small island just a few kilometers away from Rawai Beach and is one of the nearest islands to mainland Phuket. Two of the most famous spots in this islet are Long Beach, a 300-meter semi-private white sand beach on the northeast, and the Bon Island Restaurant on the island's northwest side.
Racha Islands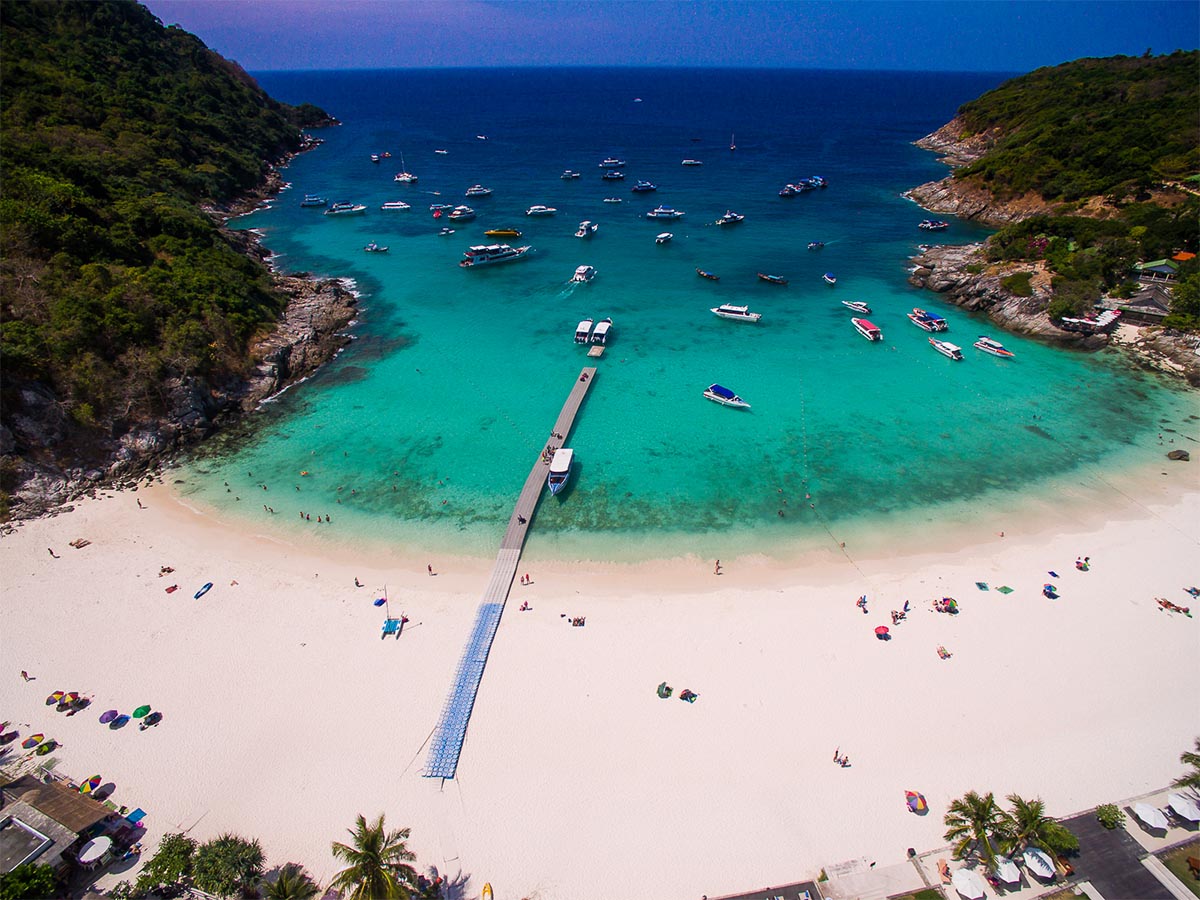 The Racha Islands are comprised of two islets located on the south of Phuket. Ko Racha Yai is known for its white, sandy beaches and clear waters which are ideal spots for snorkeling and diving. On the other hand, Ko Racha Noi is an uninhabited islet known for its rocky landscapes and white-sand shores. It is also a great spot for diving and snorkeling and is also particularly famous for fishing.
Of the two islets, only Racha Yai has accommodation options and is also inhabited by a community of Muslim fishermen and farmers.
Featured Image: Cruise Mapper